'The Land of Smiles' is the official moniker for Thailand, and it isn't hard to see why – whether the smiles are yours or those of friendly locals! For travelers, everything seems to be better here: the warmth of its people, miles of sun-kissed beaches, famously tasty food and plenty of colorful markets. It wasn't hard to think of reasons why Thailand lives up to its famous nickname.
1) People
Thai people are very friendly and generous -they'll welcome you with a smile and a kind nod; greet them in their local tongue, and they'll beam at you. They're also very gentle; I remember seeing a Thai waitress close to tears in a restaurant when someone from India questioned her in what I can only describe as the typical 'Indian Metro' style about the pasta. Additionally, no matter where you go, everyone is helpful and accommodating – so it's no wonder that Thailand regularly features as one of the world's friendliest destinations!
2) Food
In Thailand, you'll have no trouble eating well, whether you're vegetarian or non-vegetarian. The mix of sweet, sour, hot and salty flavours makes Thai cuisine distinctly delicious, and you'll find an amazing variety of salads, noodles and snacks. It's impossible not to greet a huge plate of mango sticky rice without a huge grin on your face.
3) Street Food
There is food — and then there is street food. If you are a non-vegetarian you will have a lot more variety but even if you are a vegetarian like me, you will find dishes to savor. Rice cooked in bamboo stems is my favorite, and fried bananas are something I look forward to every time I'm in this country.
4) Infrastructure
In Thailand, I've learnt to not expect potholes when travelling on the road and to expect clean restrooms even at smaller out-of-town attractions — and I've not been disappointed yet. Yes, Bangkok does have its fair share of traffic jams but then again, which capital cities in the world don't?
5) Shopping
I am not a shopper — except when I'm in Thailand! I calculate my baggage allowance carefully before I head out and I keep kilos aside just for shopping. Be it the local markets or high end shopping plazas, retail therapy is never as fun as it is in Thailand. Even the mere thought of shopping in Thailand makes me smile!
6) Night Markets
Night markets take shopping to a whole different level. Entire streets come alive with crowds of people browsing colorful, local shops. And there's never knowing what you may find – from traditional Thai pottery and hand-woven silks to funky streetwear and designer goods, just about anything is available. But be warned, you may be walking with your wallet lighter at the end of a trip to a night market.
7) Floating Markets
Yes, there are normal markets and night markets, but floating markets offer an entirely different experience. Here, vendors display and sell their goods – ranging from fresh produce to traditional desserts and the famous 'boat noodles' – on a vessel floating in the middle of a canal. I remember buying some sticky mango rice from a lady vendor. I placed my money in a basket attached to a long pole, which she lowered into her boat! She gave me the dish the same way too.
8) Spa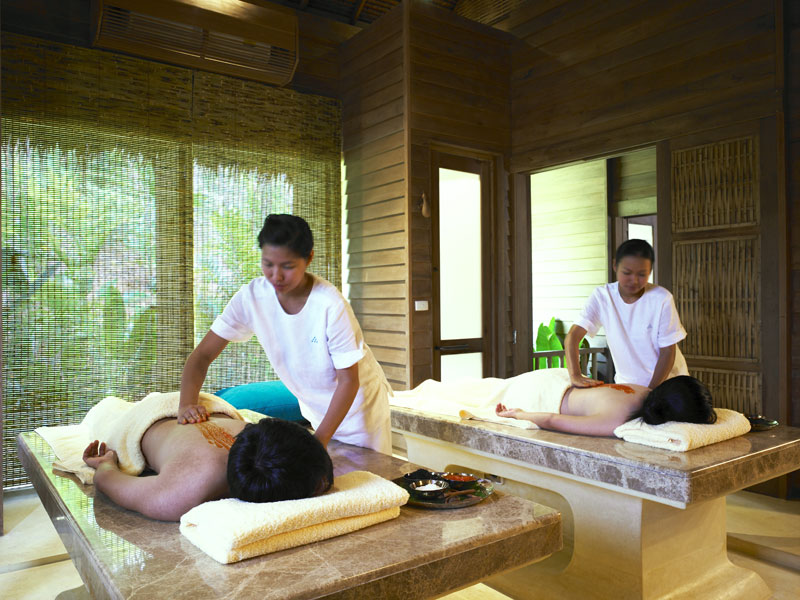 It's not surprising that Thailand is in the forefront of the spa revival that has grown worldwide recently. Wherever you search, you will find a place that's just right for you and your budget, and it's always a unique experience. You can get pampered at a standalone swanky spa tucked away in the narrow lanes of Bangkok or you can simply sit by the roadside in the country and get your feet massaged – regardless of which region you're in, spa you must when you are in Thailand!
9) Hotels
I'm amazed at the range of hotels available. If you throw a stone in this country, it's sure to hit a five-star property – or at least a four-star one. And there are plenty of backpackers accommodations too. So, regardless of your budget, you'll be spoiled for choice when it comes to finding a great place to stay during your holiday.
10) Fruits
In Thailand, you'll find an incredible range of fruits available – it's literally a tropical paradise There's rambutan, star fruit, dragon fruit, mangosteen and the king of fruits as well – durian. And the fruit somehow taste better here. The tender coconut is extra sweet and the mangoes are juicier.
Whether you're looking for a relaxing holiday on a white-sand beach or a foodie interesting in trying all the flavors of Thailand, or you're just looking for a great time amidst friendly people, in Thailand, smiles are guaranteed.
Mridula Dwivedi, one of India's leading travel writers known worldwide for her blog 'Travel Tales From India.' Her writing has been published by the BBC and in The Guardian and self-published a book titled ''100 Things to Know About India – Before You Travel.' Mridula's adventures have taken her all over the globe; she has been snowmobiling in Finland, shopped at the night market in Cambodia and even stumbled (inadvertently) upon the red light district in Amsterdam.
Related Experiences