From visiting the town that everyone suspects is the lost city of Atlantis to attending a Greek wedding, Gavrilis Stelios gives us his recommendations on how to explore and enjoy Santorini the local way. (CLICK HERE FOR MORE INFORMATION on our group trips to Greece!)
1) Please introduce yourself
Gavrilis Stelios, 33. I'm back living and working in Santorini, Greece after a couple of years of working around Europe.
I like travelling and living in other countries for a length of time so that I get to know the real face of the city I'm in and the people who live there.
Sky diving and football are my main hobbies along with pool and other sport activities.
The best places in Santorini to socialize are the central squares in every village. This is where locals meet either before or after work to talk about their day, and gather in the evening to go to a bar/club or restaurant together.
At night, beach bars are a great place to meet all kinds of people, with the bonus of relaxing music in the background, the sea by your feet and a nice cocktail in your hand.
3) Can you suggest some off-the-beaten-trail places or activities?
Santorini is a small but magical island. It may seem as though it's overflowing with people, but you can always find a quiet spot in the center of Fira (the main town in Santorini) to enjoy the view of your surroundings.
Oia is another place that everyone should visit, along with Imerovigli, which are both located on the edge of the caldera, and which have cave houses (canaves) that hang on cliffsides. It's really quite a sight to see.
You should visit Pyrgos (located on the highest part of Santorini) as it was built by the Venetians, and so has a different style of architecture than the rest of the island.
The archaeological site at Akrotiri is also quite a special place. Many people, from ancient to current historians, believe that it is the legendary lost city of Atlantis because of its technological advancements. Indeed, here you will see an ancient civilization from 3500 years ago buried under the ashes of volcano, but having already discovered at that time, anti-seismic walls and an advanced drainage systems.
4) What are some dishes to try and local cafes and restaurants to visit?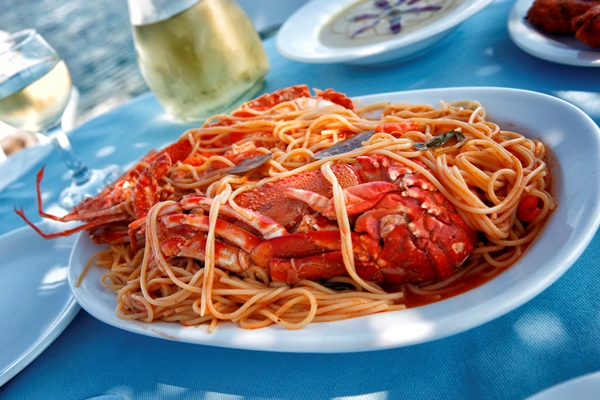 Santorini is a gastronomic center, which means that all the best chefs from all around Greece gather here!
Don't miss trying a bit of fava, a local specialty (a little like Indian dal) which is made from locally grown beans.
Santorinian salad with white soft cheese and cherry tomatoes is one of the best salads you will ever have.
Try a glass of Vinsanto, which is a sweet desert wine that is red in colour but actually made from white sundried grapes.
I like eating at Kapari Wine Restaurant at Imerovigli, while Karvounaki, located in the central square at Fira, is a great place to go for street food or traditional souvlaki (pork or chicken). The five fish taverns at Ammoudi Bay offer an unbeatable combination of the view of the sunset and the freshest seafood you can find.
5) What are some uniquely Grecian activities you suggest people do?
Attending a Greek wedding! The White Door Theater offers this experience everyday through an interactive show where actors play the part of the couple and family members, and where you act as a guest at the wedding table. You eat, drink, dance and break plates too!
Sailing around the island is another must-do. Sailing is a big part of our history and you can experience it yourself, drifting near the volcano, and around beaches with crystal-green waters and black volcanic sand.
You could also have a romantic dinner at a restaurant located on the edge of the crater with the company of a bottle of good local wine and the sunset in front of you.
6) Which are the best markets and neighbourhoods for shopping?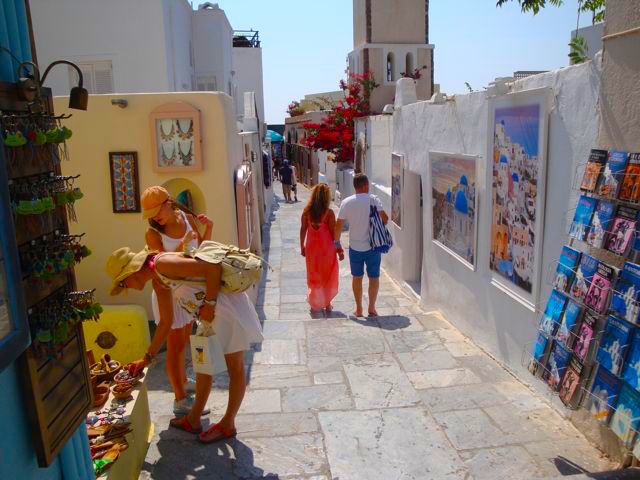 The center of Fira has many small clothing and jewellery shops and art galleries full of paintings of the Aegean Sea and the islands. You're sure to find plenty of options there.
7) What are 3 of the most photogenic places in Santorini?
Oia, as there's no better place to capture the view of the landscape and the hanging houses on the caldera, framed by blue skies.
Second, Pyrgos Village, and lastly, Fira with its colourful alleys.
8) What would surprise most people about Santorini in particular? And Greece in general?
Definitely, the first view of the caldera will surprise you, as you'll see the destructive power of nature in the middle of a small round island, and then realize how humanity has adapted to this situation, building and living their lives near it.
Also, in general, the hospitality and selflessness of the locals is something you'll have to see to believe. It's not a coincidence that the nickname of Zeus, king of the gods, is "Ξένιος" (hospitable).
9) What advice would you give for those who are interested in visiting?
Book your hotel or villa quite early as due to high demand you may not get the accommodation you want if you wait.
Instead of renting a car, opt for a motorbike or ATV instead because the roads get really busy and this will help you get around easier.
The sunsets seem more colourful between April-May and September-October.
Be ready for long walks, many steps – and don't forget your sunscreen!
Is your interest piqued or your appetite whetted? CLICK HERE to join our women-only group as we experience the charms of Greece! You'll visit mythical sites in Athens and Delphi, and soak up the Mediterranean sunshine in Santorini, eat fresh seafood, drink ouzo, meet locals, and more!
Related Experiences