Everyone's madly in love with Vietnam, including our favourite celebrities! And this is definitely not something that's new. Over the last two decades, stars, presidents (and role models) have fallen in love with this beautiful, exotic nation over and over, for many reasons. The delicious food. The beautiful landscapes. Friendly locals. A very interesting culture and history. The list is just vast.
So we decided to take cues from our favourites- Barack Obama, Angelina Jolie, Mark Zuckerberg, Samuel Jackson and Gordon Ramsay. Here's how you too can travel in Vietnam, celebrity-style:
1) Feast on Bun Cha Like Obama & Anthony Bourdain
If only we could've visited Bún Chả Hương Liên restaurant (Hanoi) on that evening in May 2016. The former president Barack Obama dropped by this streetside restaurant and was seen putting his chopstick skills to test with Anthony Bourdain.
And if you ever get a chance to visit the restaurant, you'll even find the very table where the duo sat, encased in glass with everything in place. Wonder what the two were discussing over noodles and beer – World peace? Food? Or maybe even Donald Trump.
2) Spend Christmas the Vietnamese way, just like Mark Zuckerberg
In 2011, the Facebook CEO and his wife celebrated Christmas in Northern Vietnam.
And they knew a trip to Vietnam is incomplete without visiting the Halong Bay. The two of them explored the beautiful Bay on a cruise and spent Christmas day in Sapa. Zuckerberg was even spotted riding a water buffalo here, just like the local Vietnamese.
3) Learn The Art Of Making Vietnamese Broth Like Gordon Ramsay
Gordon Ramsay loves Vietnamese food, which is rare coming from a harsh critic like him. So much so that in Masterchef US 2013, he even tasked the final 5 contestants to prepare a bowl of Hu Tieu! Why? Earlier, he had set about exploring Vietnamese cuisine for the TV show Gordon Ramsay's Great Escape. And there was no turning back.
"I thought Vietnamese food was similar to Thai but it's completely different… I think it's gonna be harder to understand than any other country I've ever visited. I've been to a lot of Vietnamese restaurants in London, and the broth and the soups are absolutely fine, but nowhere near as delicious as this."
Watch Ramsay learn the secrets to making a yummy broth with this Vietnamese grandma.
4) Live The Vietnamese Life Like Samuel.L.Jackson
That's right. Samuel Jackson had to live in Vietnam for a few months, filming for the movie Kong: Skull Island which released last year. And he absolutely fell in love with this place and the people.
"It's really awesome. In the morning, when I was going to work at, like, 5am, I'd see 600 kids on bicycles going to school in their uniforms or walking on the road and going to school, and getting it done. You pass by them, or you get out there and you look at the adults in the rice paddies, people bent over in the rice paddies doing what they do. You get to the villages or the homes or just big open spaces with 15-20 people living in them, but they're all communal and they're all working together and they're all taking care of each other."
5) Ride through the streets of Ho Chi Minh City: Brad Pitt & Angelina Jolie
The star couple were seen zooming through the streets of Vietnam's busy city on a scooter, and had no problem navigating through the chaotic and busy streets- talk about motorbike skills!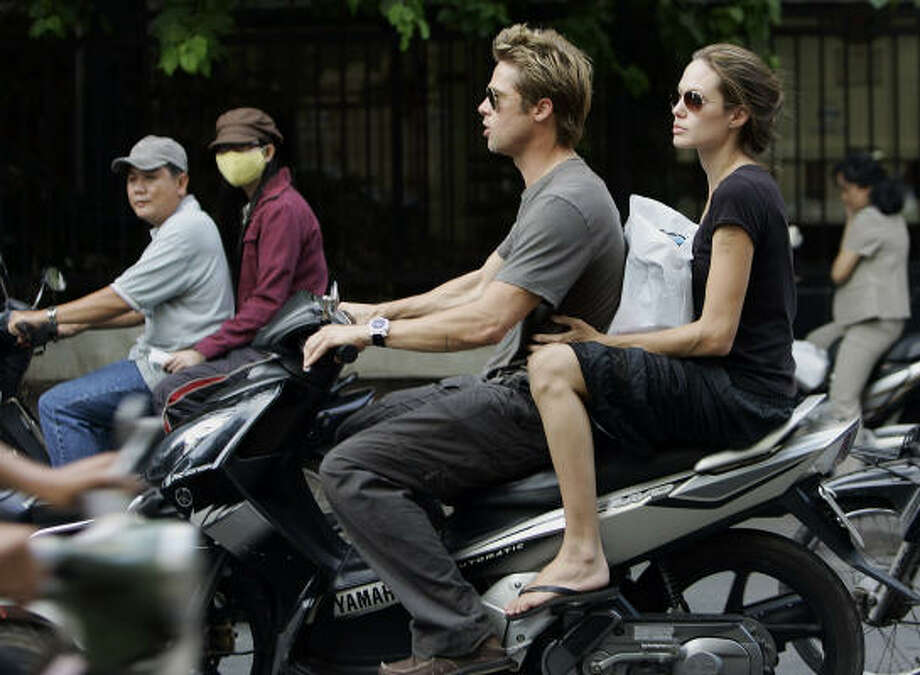 Looking to plan your own celebrity-styled Vietnam trip? Then join our next Vietnam departure/ customize your own Vietnam adventure! Click here for more details.