Ladies, have you crossed Vietnam off from your bucket list as yet? If not, now is the perfect time to get away to this intriguing country – and what better way to explore Vietnam than in the company of a group of adventurous women?
A women only holiday is an excellent opportunity to make new friends and indulge in a variety of adventures. At Byond, we've organized many women-only group trips to places like Greece, Jordan, Iceland and Egypt, to name a few.
Vietnam is famous world over for it's variety of available options in adventure tourism. So, whether you would prefer to spend some well-earned 'me time' by yourself or set off on bike trip around Vietnam, you'll have a plethora of activities to choose from.
Here are 8 adventures you should not miss out on when in Vietnam:
1) Ride a motorbike from Hanoi to Ho Chi Minh
If you are travelling alone, a motorbike is the perfect way to get around Vietnam. It is the easiest mode of transportation, you will notice many tourists doing the same and honestly, there's nothing like the feeling of freedom as you set off on a long road, where adventures beckon around every corner.
For women travelling in a group, double the company means double the fun. Riding in the company of ever 3-4 other ladies can make you feel more safe and comfortable when venturing into new areas. Plus, you can even hire a local guide for a group motor bike tour to get an insider's insights about places you visit along the way.
And riding a bike in the cities is an adventure in itself.
2) Dive and snorkel in Phu Quoc
If you're someone whose idea of a holiday entails lots of swimming and beach time, you'll be happy to learn of Phu Quoc, a beautiful island in Vietnam which is perfect for diving. It boasts palm trees, golden sands, an endless turquoise ocean and a kaleidoscope of marine life, so ladies who want a bit of adventure as well as a bit of RnR can enjoy the best of both worlds.
Diving here has become a popular adventure sport activity as thrill seekers as well as divers of different skill levels can enjoy spotting Bamboo Sharks, Blue Spotted Rays, Scorpion Fish, Nudibranch, Crustaceans, Cuttle Fish, and Octopus.
If diving is not your cup of tea, there's also snorkelling on offer. If it's your first time, you can hire a guide or professional teacher to help you.
Either ways, do not miss out on the adventure activities at Phu Quoc, which are guaranteed to be one of the activities you'll talk about constantly once you are back from your adventurous holiday.
3) Kayaking around Halong Bay
Ask anyone and they'll tell you that no trip to Vietnam is complete without a visit to Halong Bay. One of our women-only group travellers who journeyed to Vietnam this June with Byond states, "The Halong Bay Cruise through the limestone cliffs was truly amazing!"
This World Heritage Site is one of the most visited places in Vietnam and with good reason; famed world-over for its spectacular seascape of thousands of limestone karsts rising like dragon's teeth from the sea, it is one of Vietnam's crowning glorious.
There are different ways to explore this bay. Women travellers love spending the day cruising leisurely around the bay, sitting back and enjoying the sunshine as the ship sails by little fishing towns and looming, rocky outcrops. The cruise also gives women the opportunity to visit several of the cave grottoes in the area, such as the Surprise Cave. Allegedly named after the sheer astonishment of the French admiral who discovered it, this immense, 30-metre-high grotto is encrusted with stalactites and stalagmites. Guides like to point out rock formations in the shapes of tiger, dragon, and penguin formations.
An alternate way to explore the bay is from the water. Along with your crew of women travellers, you will climb into a kayak and paddle your way across the hidden caves. Here too, the advantage of numbers is that it increases your safety, and makes this experience more pocket-friendly, as you will discover discounts available for groups.
Byond organized a women-only group trip to Vietnam just this past June, and we've got another one planned soon.
4) Trek to the peak of Mount Fansipan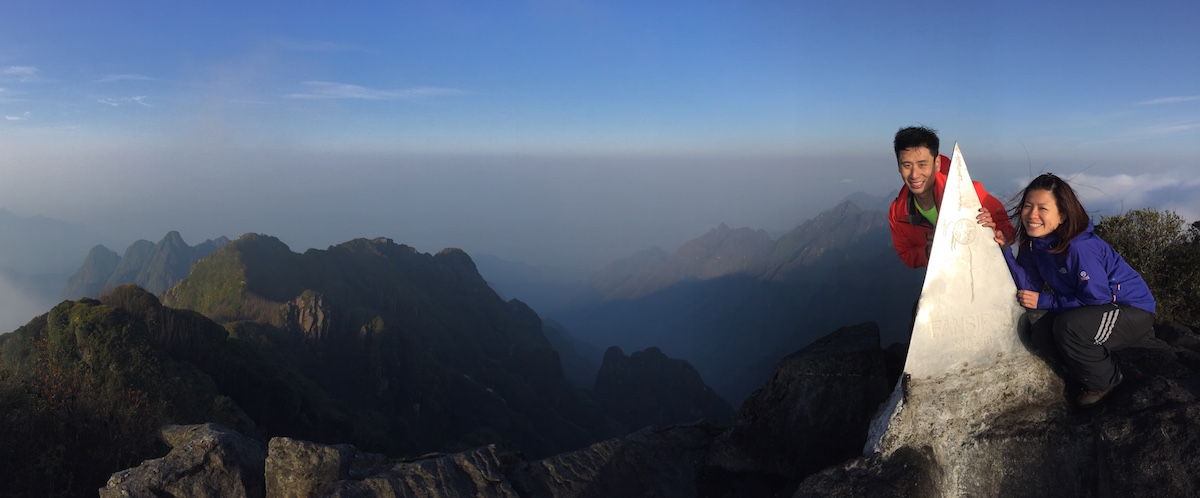 Of the many activities that adventure tourism in Vietnam offers, one that offers spectacular views is a trek to the peak of Mt. Fansipan, the  highest in Vietnam.
It's a breathtaking experience literally and figuratively: along the way, you'll see sweeping panoramas of rice terraces and villages, and then climb 3143 metres to get to the view from the top – the mountain range of Northern Vietnam unfolding like a ribbon around you.
Women travelers who are looking for a bit of a workout and a beautiful payoff, this is the adventure for you.
5) Explore the Cu Chi Tunnels
The Cu Chi tunnels are a legendary labyrinth of around 200 km subterranean passages beneath farming villages that were used as hideouts, living quarters and supply routes for the Viet Cong during the Vietnam War. Climbing down and walking through this maze of tunnels and underground bunkers will give you a first-hand glimpse of what life was like for Vietnamese soldiers holding off American forces in the 1960s;
Byond's women-only group trip who went to Vietnam in June said that this was an interesting yet poignant experience.
6) Cycle in Sapa
Cycle your way through the  green rice paddies of Sapa for one of the most pleasant adventure activities in Vietnam. A cycle trip will take you from towns buzzing with activity to peaceful farmlands and small villages with even smaller cafes, giving you ample time to soak in the beauty of the countryside as you ride leisurely through it.
Cycling is also a great way to combine some exercise with an off-the-beaten-trail activity, as your trail will no doubt lead you through rural patches of Vietnam seldom visited by travellers, and allow you to hop off your bike to chat with locals at the market or at a roadside pho stall.
At Byond, we love biking and cycling trips.
7) Paddle Board in Mui Ne
Ladies, if you're an adventure travel enthusiast at heart or a women traveller looking to take up a new adventure, then do not miss out on stand-up paddleboarding in Mui Ne. Located along the East Coast, near Ho Chi Minh, Mui Ne features turquoise waters, peaceful shores, and freshwater streams. As a beginner, you can try out lessons from any one of the schools along the beach. Once you get a grip (pun intended), paddle boarding is great fun.
Mui Ne is also known for its consistent tropical breeze that creates prime conditions for wind surfing and kite boarding, so if you're inclined to partake in more adventure sports, there are plenty on offer.
8) go Canyoning in Da Lat
Canyoning is an adventure best suited for individuals who need an adrenaline rush and love to wade through water, but don't worry if you're a newcomer. Here too, you will be given practice runs, during which you'll learn the basics of using ropes whilst canyoning, and move progressively from small waterfalls to larger ones. Just imagine hanging on a rope but, with the waterfall rushing over your body – it's a thrilling experience that you won't be forgetting about anytime soon!
Canyoning is as much a group adventure as it is an individual one; sure, it's definitely fun to conquer the fear of climbing over waterfalls by yourself, but having your friends from your women only group cheering you on as you do it only adds to the experience. Byond organizes many women-only group trips, including adventure in Jordan or photography in Bhutan. CLICK HERE to see our current women-only trips on offer and keep checking back as more are added every month!
Either ways, this experience is sure to make your Vietnam getaway an unforgettable adventure trip.
If you're intrigued by the idea of women-only adventures in stunning location such as Vietnam but also Jordan, Myanmar, Egypt and more, CLICK HERE to check out our upcoming trips. We've got trips to Myanmar, Egypt, Australia and more lined up!
Click here to check out our upcoming trips!
Written by Vandita Jadeja